It's been three months since I posted a recipe. I've been in a cooking rut.
Last week I briefly got out of that rut and made two different cheesecakes. Probably because I am on a diet and cheesecake sounded heavenly. The cheesecakes sat in the fridge, staring at me, until I took them to a MOPS event. I did eat a piece of each which very much blew my diet. I'm back on my diet now but hopefully you aren't on one and can enjoy these recipes!
The first is a popular mini cheesecake recipe. I made it exactly as the recipe called. No need to change perfection!
Mini Cheesecakes
2/3 cup graham cracker crumbs
2 Tablespoons sugar
2 Tablespoon butter, melted
2 (8 ounce) packages cream cheese, softened
1/2 cup sugar
3 teaspoons lemon juice
1 teaspoon grated lemon zest
1/2 teaspoon vanilla extract
2 eggs
1 can pie filling of your choice or fresh fruit (I used cherry pie filling and only used 1/2 of the can for 12 cheesecakes.)
Preheat oven to 325 degrees. Line muffin tin with foil muffin cup liners and spray with Pam. (Not sure you need the foil liners or the Pam but that's what I did and nothing stuck.)
In a medium bowl, mix together the graham cracker crumbs, sugar and butter with a fork until combined. Measure a tablespoon of the mixture into the bottom of each muffin cup, pressing firmly. Bake in the pre-heated oven for 5 minutes, then remove to cool. Keep the oven on.
Beat together the cream cheese, sugar, lemon juice, lemon zest and vanilla until fluffy. Mix in the eggs.
Pour the cream cheese mixture into the muffin cups, filling each until 3/4 full. Bake at 325 degrees for 25 minutes. (I checked a few times after the 20 minute mark to make sure I didn't overcook them. You want them set but not overdone.) Cool completely in pan before removing. Top with pie filling of your choice or fresh fruit.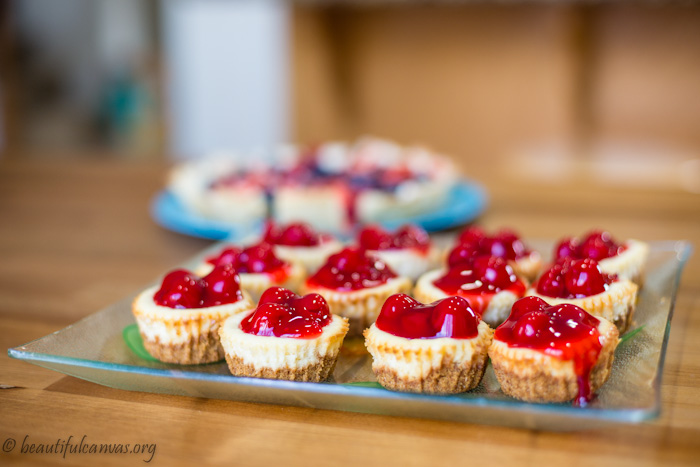 The second is my mom's version of fruit pizza. It's a cross between cheesecake and fruit pizza. I've never loved fruit pizza because the cookie crust is usually very sweet. This recipe makes a pie crust which is just the right sweetness in my opinion.
Fruit Pizza Cheesecake
1 1/2 cups flour
dash salt
2 Tablespoons sugar
1/2 cup oil (Really Mom? Does it need 1/2 cup of oil? I made it that way but I'm wondering if less would work…)
3 Tablespoons milk
1 (8 ounce) package cream cheese, softened
1/3 cup sugar
1/2 teaspoon vanilla
Fruit, chopped (strawberries, blueberries, raspberries, peaches, kiwi, etc.)
Preheat oven to 400 degrees. In a pie plate use a fork to mix the flour, salt, and 2 Tablespoons sugar. Add the oil and milk. Mix and press into pie plate. Bake for 10 minutes until light golden. Cool.
Combine cream cheese, sugar and vanilla. Spread over cooked pie crust. Arrange fruit over cream cheese.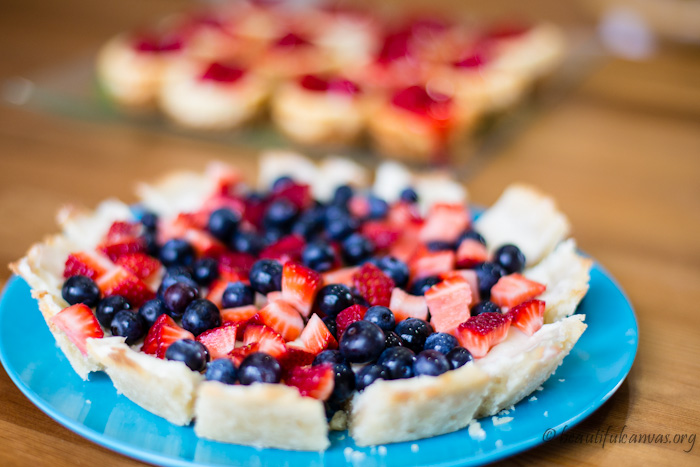 Dave and I had cheesecake groom's cakes at our wedding. Not these- I think they were chocolate- but seriously yummy. I am of the opinion that cheesecake is in a whole different ballpark from regular cake. Enjoy!