Each week we filled out a report on Sweet Tea and sent it to the hosting agency. One of the questions was current weight and height. When I told Sweet Tea that I needed to weigh her, she looked skeptical. I explained that the hosting agency needed to make sure she was eating. She nodded and stepped on the scale. I quickly explained that the numbers were in pounds, not kilograms! (There are 2.2 pounds per kilogram…no one wants to see double their usual weight staring back at them from the scale!)
Despite all the yummy foods we cooked and ate and all the frozen yogurt runs, Sweet Tea left our house weighing exactly, to the pound, the same as when she arrived. She did grow an inch taller though. 🙂
Speaking of yummy foods…
One day when we didn't have specific plans, I asked Sweet Tea to help me make an Eastern European dessert.
She translated, "Who is it for?"
I told her it was for all of us. We would eat it. She shrugged.
Maybe she isn't used to making special desserts for herself?
I told her that we would make the cake for Grandma and she liked that idea. Big smile.
Dave's mom was happy to come over and eat cake, so we were all set. A friend of mine recently went to some Truffle Nation Baking Classes and she taught me this recipe. I'm not the best baker in the world but this tasted amazing! Perhaps I should go to a baking class so I can learn some new recipes!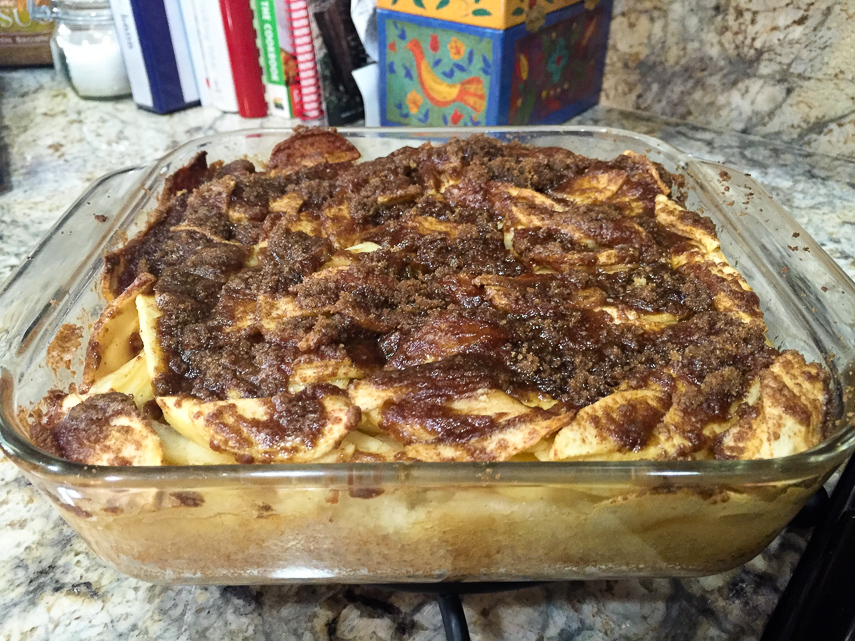 Yabluchnyk (Apple Cake)
1 1/2 cups all-purpose flour
1/4 cup white sugar
1/4 teaspoon salt
2 teaspoons baking powder
1/2 cup butter
1 egg, beaten
1/3 cup heavy cream
4 large apples – peeled, cored and thinly sliced
Streusel Topping
2 tablespoons cold butter
1/2 cup brown sugar
2 tablespoons flour
2 teaspoons ground cinnamon
Directions
Preheat oven to 375 degrees. Lightly butter an 8 inch square baking dish.
Sift together 1 1/2 cups of flour, sugar, salt, and baking powder. Cut in 1/2 cup of butter until the mixture is crumbly.
Stir together the egg with the cream and gently mix into the flour until a soft dough has formed.
Press into prepared baking dish.
Layer the apples into the dish overlapping, in neat rows.
Prepare streusel by mixing the brown sugar, 2 tablespoons flour, and cinnamon together in a small bowl. Cut in 2 tablespoons butter until the mixture is crumbly. Sprinkle over apples.
Bake in preheated oven until apples have softened, and topping has browned, about 25 minutes. Serve with whipped cream.
This cake is definitely better the following day as the crust is somewhat dry but left overnight gets moister.
YUM.