So much for blogging the whole month of hosting Sweet Tea. We were a little busier than we anticipated. I got Sweet Tea's permission to blog about her visit and post pictures so here goes…
I'll start at the very beginning.
Mid-December Dave, Lauren and I drove to the airport at almost midnight to pick up Sweet Tea. She had been traveling for 30 hours (three flights plus layovers) so we knew she would be tired. Exhausted.
We waited at baggage claim with the other families from the San Diego area who were hosting kids from Sweet Tea's country. We were all nervous. I mean what could possibly go wrong when hosting a teenager from Eastern Europe who lives in an orphanage and has for years? I kept reminding myself that I couldn't possibly be as nervous as Sweet Tea. We know we are a decent family who would treat her well but how was she to know that? She could be walking into anything.
In a flurry the kids appeared and we all held up our signs, looking for a familiar face from the one photo we had received. A few of the kids ran to their host families, having been hosted before and anticipating an exciting reunion. A few new kids ran to their families too. We saw Sweet Tea standing there, not moving. We hurried up to her and held up our sign. We introduced ourselves and she said her name. Someone asked in her language if she was OK and she hesitantly nodded. The airport coordinator who was helping all of us said, "This one will come out of her shell."
We took a quick picture together and then it was time to go.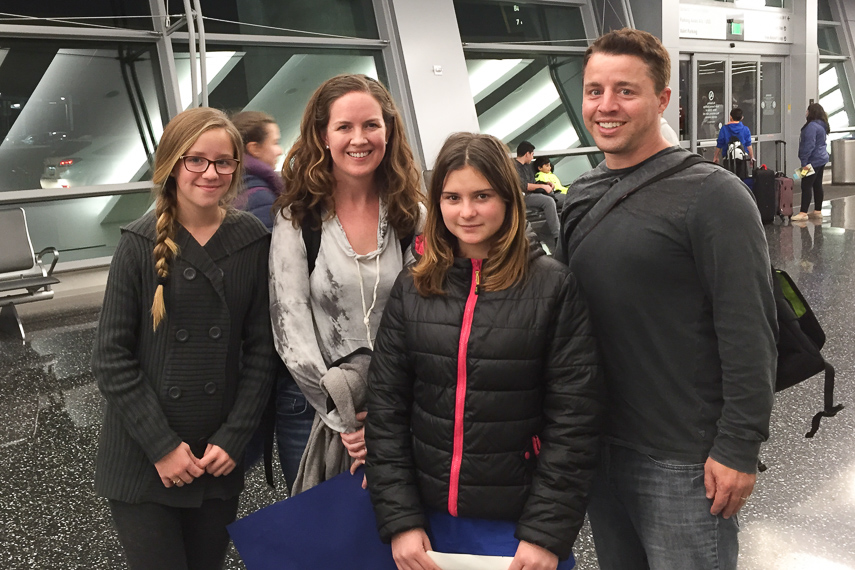 We pointed to the bathroom and she shook her head. As we walked to the car, I could feel the stress, the tension. She was shaking. I imagined she was thinking: Who are these people? What have I done? What have I agreed to?
We got in the car, I showed her how to use the seat belt and we were on our way. And then the tears started. Exhausted, emotional, scared sobs.
I translated on my phone, "It will be Ok. We are happy to have you here." And "We live very close to the airport so you can go to sleep very soon." She smiled.
Four weeks later I asked her if she slept on the plane and she translated back that, no, she did not sleep much. That planes are not good for sleeping.