If you are highly offended by cuss words, then please exit now as there is one in this post…
***
***
***
***
***
***
***
***
Last year, Dave and I went on a vegan diet for a few months. It was one of the best things we've ever done and I don't regret it at all. We spent a lot of time weighing up the pros and cons of the vegan vs. keto diet and decided that the vegan diet would be good for our lifestyle. We both felt much, much better and lost weight. We are starting over with that diet except this time we're eating chicken as I find it incredibly difficult to cook for a family without the use of poultry. So we can't say we are vegan. More just eating healthy to keep these old bodies movin'!
We try to eat a lot of veggie and bean meals and have found a few that we truly LOVE.
Definitely our favorite and most frequently eaten meal is a "burrito bowl" with brown rice, black beans, corn, lettuce, tomato, avocado, green onions, a few tortilla chips, salsa and the thing that takes it from good to fantastic: Bitchin' Sauce.
So what is Bitchin' Sauce, you ask? Well, it is the most delicious, yummiest sauce ever. A local brother/sister team make it and sell it at farmers' markets and a few grocery stores. According to them, Bitchin' Sauce is a vegan, gluten-free, almond-based, savory sauce that is rich in nutrients and packed with flavor. It's smooth and creamy consistency makes it perfect for dipping vegetables and chips, spreading on sandwiches or wraps, or smothering over your favorite savory foods. Bitchin' and saucy. . . . Get it in ya! They make a few flavors and chipotle is definitely our favorite. The good news is that they ship so if you too want to have your salads revolutionized, you can order Bitchin' Sauce. Free advertising over now. 🙂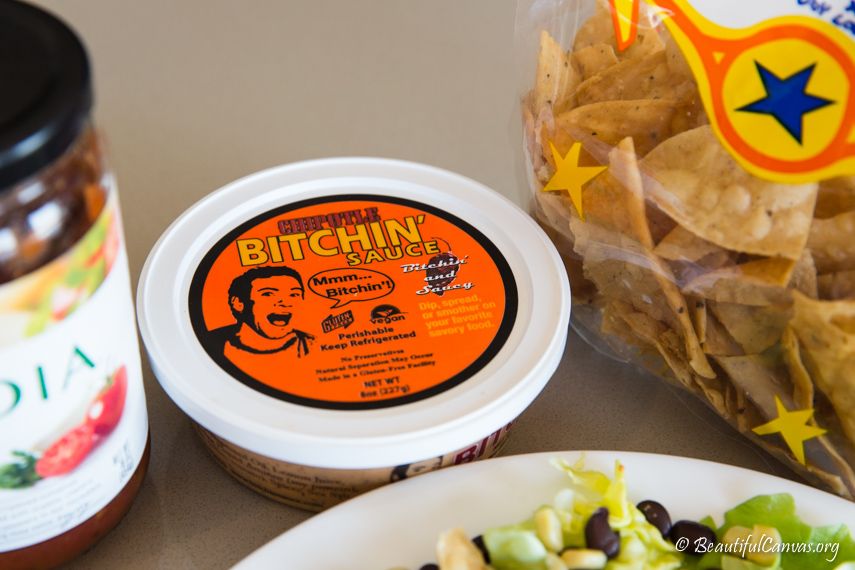 I'm a huge fan of Cadia salsa and Have'a corn chips which are made in Laguna Beach.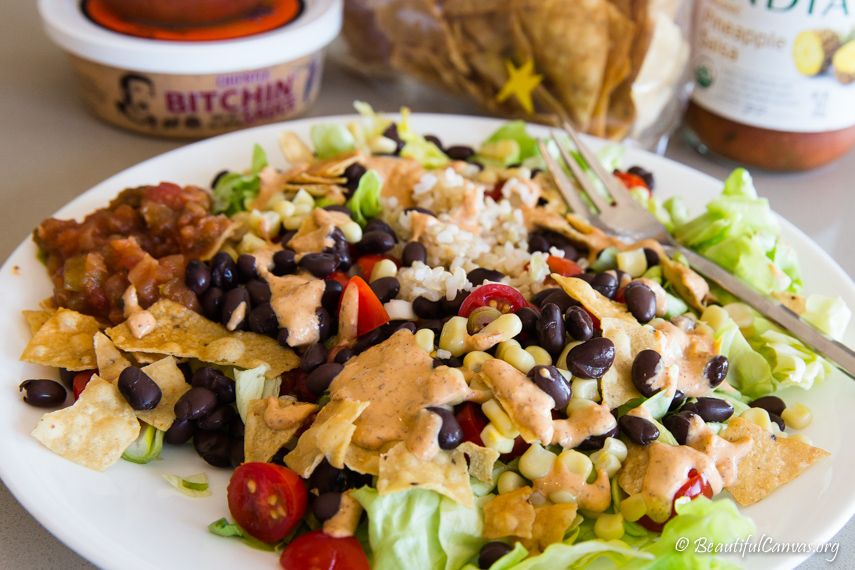 I promise, this is GOOD. In fact, when Dave travels, he says he misses our "salad".