On our way home from Colorado, we decided to swing by the Grand Canyon. We paid admission, drove around, took some pictures, bought a couple of souvenirs and then started back on our journey home. Next time I definitely think we'll book a tour with https://www.dreamlandtours.net/ to ensure we get the maximum amount of knowledge on the Grand Canyon and so that we get the best views. It truly is a beautiful place with plenty of things to do and places to explore! It was a super-fast visit but the girls can now say they've been to the Grand Canyon! Dave and I went when I was 6 months pregnant with Lauren. That was a much more leisurely visit, for sure! You can't really visit the Grand Canyon quickly properly; there's so much to explore that the visit kind of seemed pointless, you need to choose grand canyon tours that really get you to see it all. Next year, with a tour guide, it won't just be a drop-in visit.
Quick story about the souvenirs: Hope was so excited to find a gold coin in the souvenir shop. She wanted that coin more than anything else. More than a stuffed animal or a sparkly bracelet. After Dave paid for the coin and Lauren's bag of Grand Canyon (i.e. made in China) rocks, I asked Hope what she planned to do with her gold coin. Hope's response? "Eat it!!!!" Poor baby was woefully disappointed when she found out that her $7 gold coin was not really a gold-foil-wrapped chocolate coin.
The drop-offs take on a whole new meaning when your kids are near them…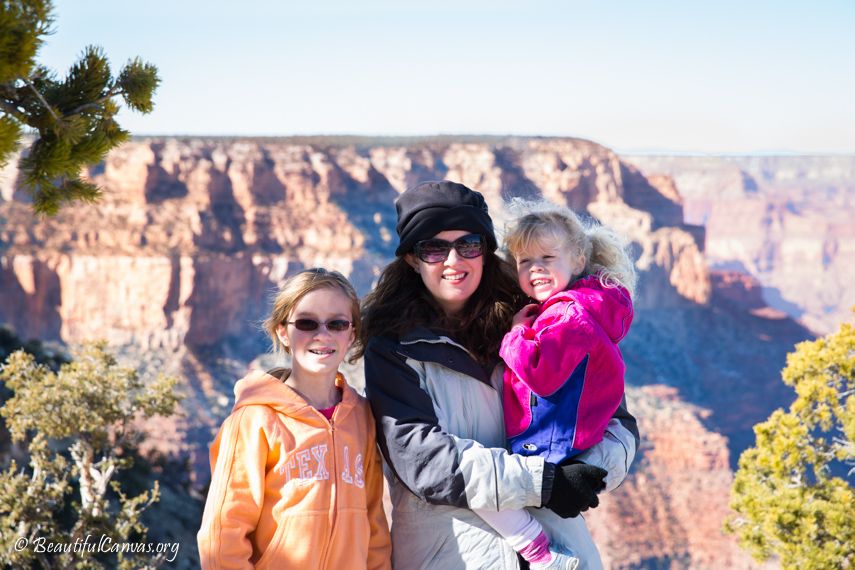 Hopefully we'll have another chance to visit the Grand Canyon and stay longer. It is truly a masterpiece.