Hope and I cooked today. And by Hope and I, I really do mean both of us. Hope LOVES to help in the kitchen. Pouring, mixing, measuring, you name it, Hope loves it! And she knows her stuff. She watches the Joy of Baking channel on youtube. Entertaining stuff, let me tell you! Not too long ago I made brownies and Hope asked, "Mom, did you put parchment paper in the pan before you cooked the brownies?" No, I didn't but according to Hope I was supposed to!
Back to the soup and crackers…
Hope and I made The Odd Couple Eats' Spicy Lemon Orzo Chickpea Soup and my mom's homemade cracker recipe.
Spicy Lemon Orzo Chickpea Soup
2 Tablespoons olive oil
1 medium onion, diced
4 cloves garlic, pressed
1 teaspoon cumin
1/2 teaspoon cinnamon
1/3 teaspoon smoked paprika
1/4 teaspoon cayenne pepper
1 can (15 oz) diced tomatoes
1 can (15 oz) chickpeas, rinsed
4 cups vegetable or chicken broth
3-4 cups water
1 cup whole wheat orzo
3 cups fresh spinach, torn
Juice of one lemon
In a large soup pot, heat the olive oil over medium heat. Add the onions and garlic and cook several minutes, stirring occasionally. When the onions are cooked through, add the cumin, cinnamon, paprika and cayenne pepper. Add the tomatoes, chickpeas, broth, and 3-4 cups of water (depending on how thick you like your soup). Bring the soup to a boil, reduce heat to low and cover. Simmer for 10 minutes.
Add the orzo and continue simmering for another 15 minutes. Once the orzo is fully cooked, remove from heat and stir in the spinach and lemon. Cover and let sit for 5 minutes so the spinach wilts.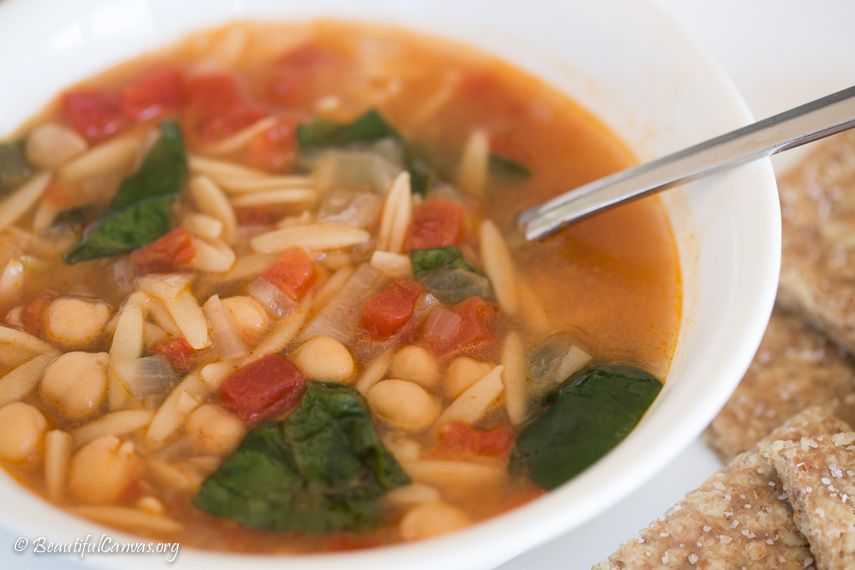 I used to be afraid of adding too much cayenne pepper but in this soup it adds just the right kick and flavor without being overly spicy.
***
Texas Grandma's Whole Wheat Oatmeal Crackers
3 cups oatmeal
2 cups whole wheat flour
1 cup unbleached white flour
3 Tablespoons sugar
1 teaspoon salt
3/4 cup oil
1 cup water
Combine all ingredients and roll onto two cookie sheets. If the dough is a bit too dry, you can add a tiny bit more water, like a tablespoon at a time. Cut in squares with a pizza cutter. Sprinkle with additional salt. Bake 30 minutes or until golden brown.