I have several favorite Christmas goodies: no bake cookies, disappearing brownies, those peanut butter cookies with the hershey kiss in the middle, fudge and my all-time favorite snowballs, i.e. Russian tea cakes, Mexican wedding cookies, pecan sandies, etc. The humongous problem is that my family doesn't like these cookies at all! So I only make them to give away…but I eat one or two beforehand. 🙂
Snowballs
1 cup butter, softened
1/2 cup powdered sugar
1/4 teaspoon salt
1 teaspoon vanilla extract
2 1/4 cups all-purpose flour
1 cup chopped pecans
1 cup powdered sugar for decoration
Preheat oven to 350 degrees. Cream the butter with 1/2 cup of powdered sugar and the vanilla. Mix in the flour, nuts and salt. Roll about 1 tablespoon or so of dough into balls and place on an ungreased cookie sheet.
Bake at 350 degrees 12 minutes, until bottoms are slightly brown. Make sure not to overcook! While cookies are still hot roll them in powdered sugar.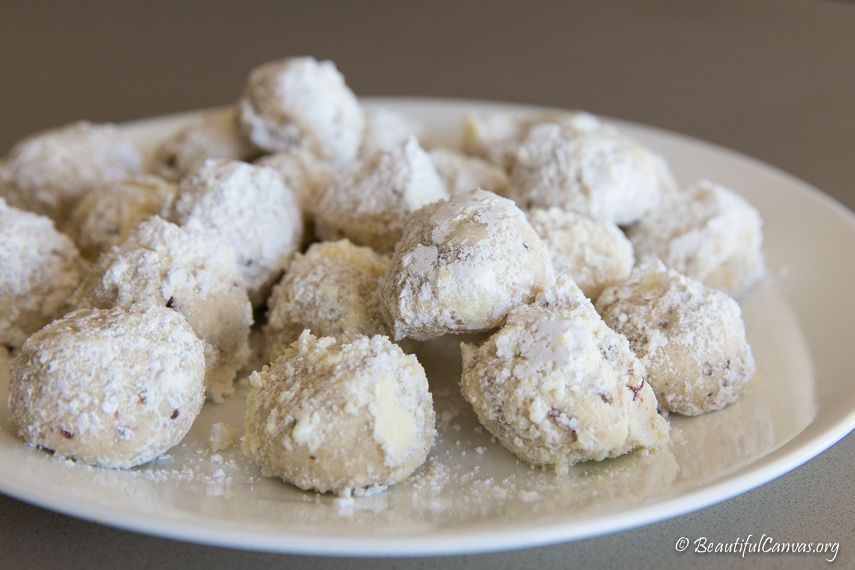 What is YOUR favorite Christmas dessert?