I found this post today in the drafts folder from a year ago. Two thoughts: 1) Not sure I can make this vegan and make it taste good. Boo hoo. 2) My photography skills have improved. This is a really uninspiring picture!
***
You know when you see an absolutely beautiful cake and think that it is going to be marvelous tasting and you are sorely disappointed when you take the first bite and it is dry and tasteless?
Well, we had the exact opposite experience last week. NY Grandpa made a cake. Unfortunately, it didn't come out of the bundt pan cleanly, leaving part of its pecan crust in the pan. Chunks of it stayed in the pan too.
However, looks can be deceiving. This cake was fantastic. And I am not a lover of cake. But, I loved this one!
Here's a chunk of Blackberry Wine Cake.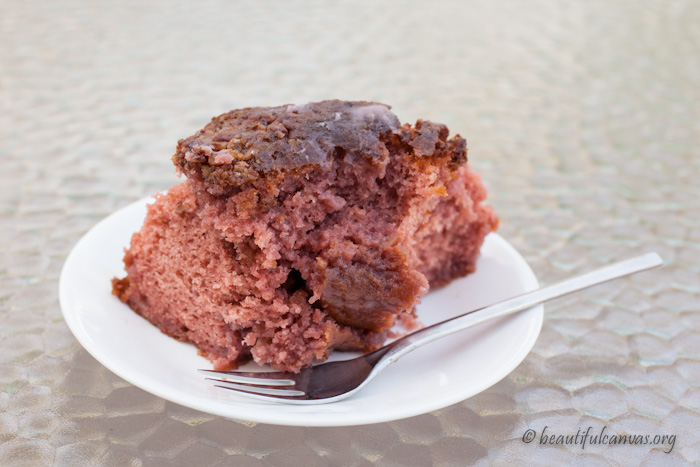 And here is the recipe.
Blackberry Wine Cake
1/2 cup nuts , chopped
white or yellow cake mix
3 ounces blackberry Jell-O (can use raspberry or black cherry)
4 eggs
1/2 cup cooking oil
1 cup blackberry wine
Glaze
1 cup powdered sugar
1/2 cup blackberry wine
1/2 cup butter
1 -1 1/2 cup powdered sugar (to thicken the glaze)
Directions
Preheat the oven to 325 degrees.

Grease and flour a Bundt pan; sprinkle the nuts in the bottom of the pan.

In a large bowl, combine the cake mix and gelatin.

Add the eggs, oil and wine.

At low speed, beat just until moistened.

Increase the speed to medium and beat for 2 more minutes; scrape the bowl frequently.

Pour in the Bundt pan and bake for 45-50 minutes.

Glaze: Bring the 1 c powdered sugar, wine and butter to a boil; the glaze will be fairly thin.

While the cake is still warm and in the Bundt pan, pour half of the glaze on the cake.

Let the cake sit for 30 minutes to absorb the glaze.

Turn the cake out of the pan and completely cool.

Thicken the remaining half of the glaze with additional powdered sugar and pour over the cake.
Try this, it is GOOD!