After spending a week with my family in Texas for Christmas and watching my younger brother Kevin eat all kinds of healthy foods — brown rice, beans, sweet potatoes, salads, vegetable stews, etc., Dave and I came home and decided to change the way we eat. We watched Forks Over Knives and goodness gracious that documentary kicked us into high gear!
Since the beginning of January we have cut out almost all dairy and most meat (we do eat a little chicken and fish…maybe once a week) and stuck with a whole foods, plants based diet. We cook with as little oil as possible and eat more vegetables than I thought possible! We drastically cut our sugar intake. I guess you could call us mostly vegan.
Between the two of us we have lost 16 lbs. this month. We feel soooo much better.
Honestly, neither one of us can believe we are doing this! Dave doesn't even really like vegetables and he is eating every veggie I put in front of him. Ahhh, true love. 🙂
The first week was hard but each subsequent week has gotten easier. And now, we are enjoying what we eat. I can't wait for summer when fruit will be perfectly ripe and deliciously sweet and vegetables will be more flavorful.
The goal is to avoid high blood pressure, cholesterol, way too many extra pounds, diabetes, etc. Obviously we can't control everything that happens to our bodies but we can be responsible and do our part to eat healthy. And might I add that my brother Kevin went from high blood pressure, high cholesterol, border-line diabetic and over 300 lbs. to a lean, mean healthy machine by eating this way? His latest bloodwork? Cholesterol: 113. WOW!
Disclaimer: We aren't going to go all weird. If someone invites us over for dinner and serves ribs, baked beans with bacon, potato salad, mac & cheese, and apple pie with ice cream for dessert, we will eat it and enjoy every bite! But, our hope is that we can maintain a very healthy lifestyle at home and only very occasionally eat meat, dairy and sugar.
One recipe I have made a couple of times is The Best Vegetarian Chili Ever from the pickyeaterblog. This recipe has cocoa powder in it and a couple of splashes of soy sauce. Might sound a bit strange but all put together, it is very yummy.
The Best Vegetarian Chili Ever
1 can Kidney beans, drained and rinsed
1 can Black beans, drained and rinsed
1 can Pinto beans, drained and rinsed
1 cup frozen corn (Lana's note: I used a whole can of corn.)
1 red bell pepper, diced
1 green bell pepper, diced
1 red onion, diced
1 28 oz can crushed tomatoes
1 cup vegetable broth (Lana's note: I used 2 cups broth.)
5 garlic cloves, minced
1 heaping tbsp chili powder
1 tsp cumin
1 tsp coriander
1 tsp Ghirardelli cocoa powder (unsweetened)
1/2 tsp garlic powder
1/4 tsp (or a bit less) cayenne pepper (Lana's note: I started with 1/8 tsp and then added to taste.)
A couple splashes of soy sauce
1/2 tsp salt
Black pepper and paprika to taste
Chop the garlic, onion, and bell peppers. Saute lightly over medium high heat in 1-2 tsp olive oil. Meanwhile, wash the beans until all of the canning liquid is gone.
Once the veggies have sauteed for about 5 minutes, add everything else into the pot (tomatoes, beans, spices, etc.). Bring to a boil. Reduce heat and simmer for 30 min or longer as needed.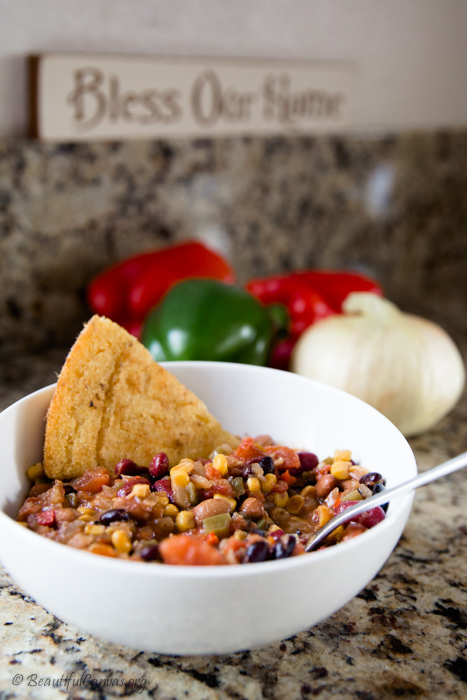 The first time I made this, we really missed sprinkling cheese on top and adding a dollop of sour cream. The second time, not as much. We're hoping by the third time, we'll be just as happy without those things as we would be with them!