Last night the girls trick-or-treated. Hope quickly figured out the whole ding-dong-trick-or-treat-CANDY-thank-you-so-much routine! She RAN from one house to the next.
The amount of candy we came home with was a little frightening. I restrained myself to one Reeses Peanut Butter cup last night. We don't keep peanut products in our house because Lauren is allergic so I figured it was my duty to eat that thing up and keep her from an allergic reaction. Sounds logical to you, right? Dave seemed to think so cause he ate one too.
Pre-trick-or-treating picture. Neighbor Brogan joined the picture while her mom and brother jumped around behind us with candy to get Hope's attention.
I scheduled Lauren's orthodontist appointment at our local practice, which is similar to the one at orthodontistemontreal.com/en/, so she could have her braces. But I completely forgot it was to get braces the day before Halloween. She is not particularly happy with me about that one! Her mouth is too sore to eat…she's living on Ensure for the next few days. We'll make sure to save her a few of her very favorite candies (Hershey's, M&M's, Twix, Kit Kat, etc.).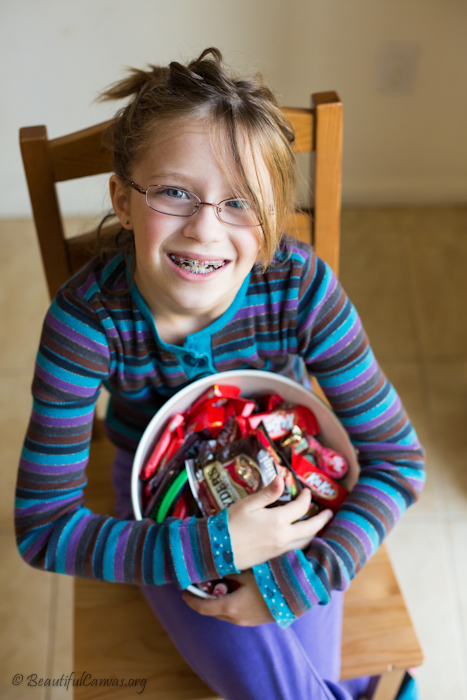 Speaking of Lauren's braces, she choose hot pink and light purple. I'm sure they are no fun but they sure are cute!