I despise clutter. If anything is squashed together in our house, I get rid of stuff until it all fits nicely. And when I say "get rid of stuff", I usually mean throwing it away, because half the stuff I clear out has no use for us anymore, so it's taking up valuable space. Space that could be used for something else. It wasn't until my friend told me about somewhere called Boombox Storage that allowed her to store some of her clutter in a secure facility, did I realize that this could become an option. Some of the things I don't really want to get rid of, but it's hard when you need more room, so if I used a service similar to this, it could work in our favor. And as I don't like clutter, I'm open to any suggestions. There is of course the option to look for sheds for sale in PA, but it all depends on how much space you have around your home as to which option suits you more. I don't have a lot of land, so a storage service would probably be the better option for me.
I cannot stand moving stuff around to find what I need whether that is in the fridge or cabinet or drawers. That just seems like the biggest waste of time ever. (Far worse than wasting time watching mindless reality TV…not that I do that! ha!) Dave loves to point out that when I pack for a trip, I like for my clothes to have extra room in my suitcase. No smooshed clothes.
Because of my disdain for clutter, I go for a minimalist approach to most everything, including decorating our home. I like having lots of empty wall space with a few favorite pictures. A handful of knick-knacks but no more.
So, imagine my surprise when I impulsively snatched up two dust collectors at the local Goodwill Boutique. They are the newest additions to our guest room.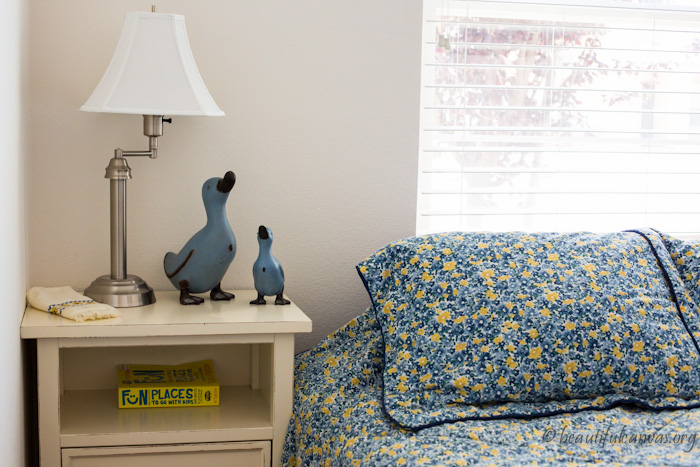 Ducks! A momma duck and a baby duck. Aren't they cute?
Hope LOVES them.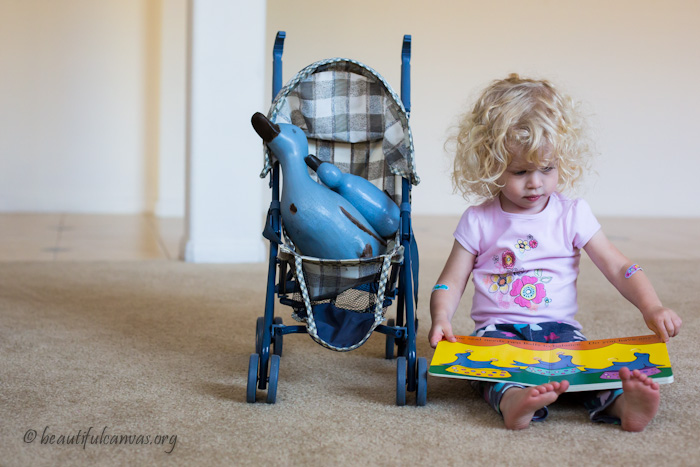 The ducks are actually spending more time outside of the guest room than in the guest room. As I type this, Hope is in her bed, supposed to be going to sleep, but instead is loudly talking to the momma duck who is on the floor next to her.
You just never know what treasures you might find at the Goodwill store! Quack, quack!