[This post is part of an
ongoing blog series
to get to know each other better. Have you read and participated in the other "
More About You Monday
" questions?]
***
Today's More About You Monday question is: What famous people have you met or seen up close and personal?
We'll start by sharing a few pictures.
This is Dave and P.J. O'Rourke. P.J. is a political satirist and author.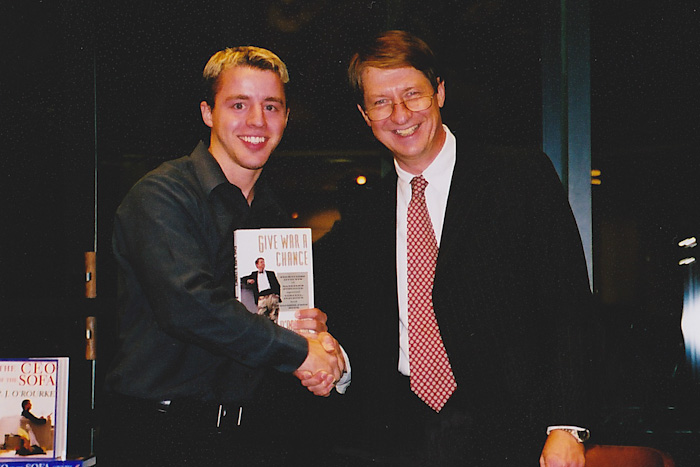 There is a funny story behind this picture. About 11 years ago, Dave and I went to a book sale with Wes (Dave's brother) and his wife, Karen. It was one of those $5 per bag sales. Wes stuck P.J.'s Give War A Chance in Dave's bag as a joke. That started a few years of Dave hiding the book at Wes and Karen's house and then when they found the book, Wes would hide it at our house. I vaguely remember the book being found under mattresses, inside hard drives, etc. Of course, Dave and Wes left notes for each other inside the book. When Dave saw a notice that P.J. would be signing autographs at a bookstore near us, we had to go! P.J. signed the book, "Wes, Give War Another Chance" and Dave taped this picture inside the book before he hid it again at Wes's house. Hmmm, where is that book now?
***
This is me and Christian rapper, TobyMac. Almost 10 years ago, he came to our local Christian book store and signed autographs. So, I stood in line for an autograph for Dave!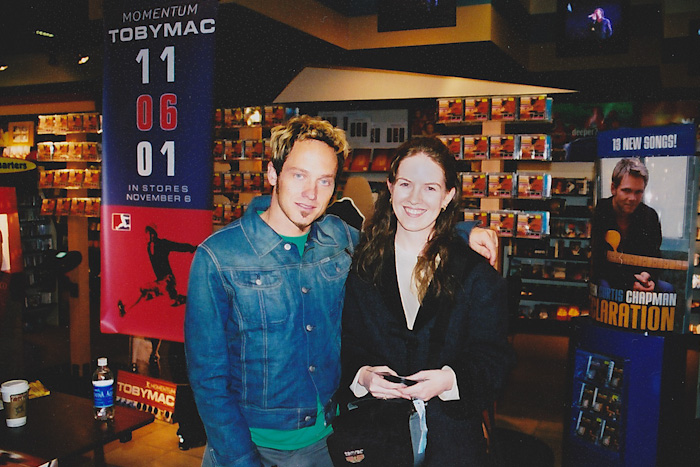 We had just gotten a Nikon N80 — Nikon, gasp! We had no earthly idea how to use it other than to point and shoot. Toby asked to see my camera and promptly changed some of the settings. I told him, in no uncertain terms, that he had to change my camera back to the way I had it! Poor guy. He probably set it to manual, what we should have been doing all along!
***
Last but not least, Chris Rock. Dave's paparazzi picture.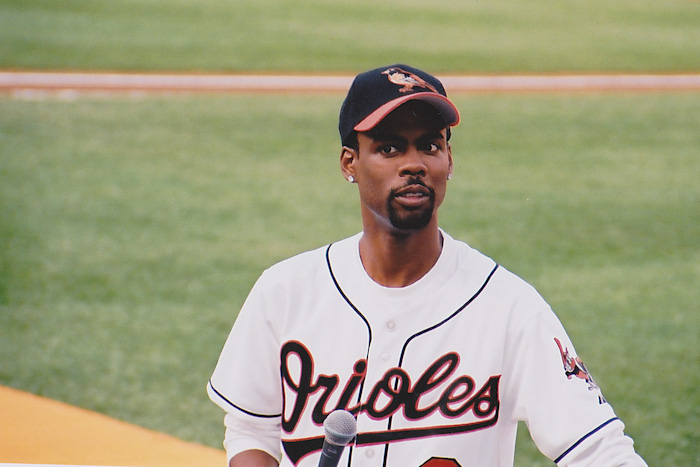 In 2002, Dave and I went to see a Toronto Blue Jays and Baltimore Orioles baseball game. Actually, we watched two games, a double header. In between games, Chris Rock was filming a scene from his upcoming movie, Head of State. They announced that they needed a bunch of fans in the background so we did our best to position ourselves as close to Chris as we could. We almost made it into the movie. We were on the very edge of a shot. The person sitting next to us was in the scene but we got cut off. Boo!
And here we are in the stands.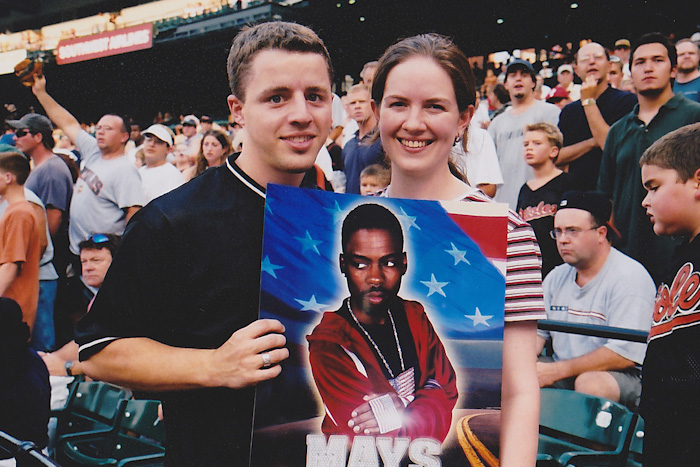 So, tell us who you have met or seen up close!