Speaking of what you are good at and favorite foods, my mom has two very impressive skills. 1) She can find a good deal on most anything and 2) she bakes the most wonderful bread.
Recently, she combined these two skills to achieve something even I, who know her quite well, would not have imagined possible.
A little background…a few years ago I asked my mom if someday she would will her Bosch bread mixer to me. She laughed and said sure.
I have wonderful memories of my mom grinding her own wheat, mixing the dough in the Bosch and baking many, many loaves of whole wheat bread.
I can smell the bread baking now! There is nothing quite as wonderful as the first slice of hot bread, smeared with butter, straight out of the oven. Heavenly!
Fast forward to a few months ago. My mom called to tell me that she stopped at the local As-Is store on her way to work. While poking around in the store, she spied a Bosch mixer. She took it up to cashier and asked the price.
$1.00.
So, I don't have to wait for my mom to will her Bosch to me. I have one of my own!!!
Here's my Bosch, which is just like my mom's.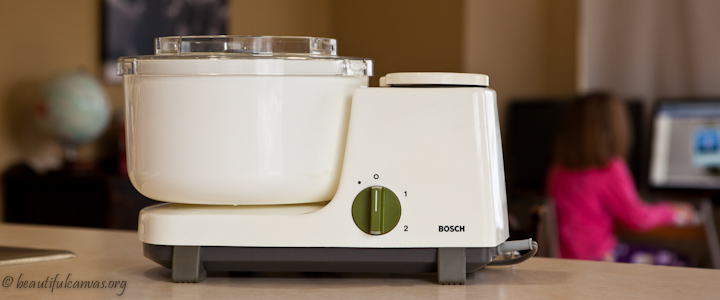 And here's my cute mom.