Warning! This is going to be a long post. I often post about one or two of the girls but this post will be about all three. So, here goes.
Lauren
This past Wednesday was Lauren's last day of kindergarten. Wow, the year flew by. I often wish I had a pause button.
Each morning Lauren hopped out of bed, hopped around the house getting ready to school, and hopped to the bus stop. Those of you who know Lauren know that Lauren does not walk. She hops and twirls. And not necessarily always fast hopping and twirling. Especially when we need her to move fast. Then it is slooooooowwww twirling and hopping.
We were incredibly pleased with Lauren's kindergarten experience. She blossomed both academically and socially. We were proud to read the note on Lauren's end-of-the-year report card, "Lauren made many friends this year and added great character to the classroom." We are happy that math and reading come so easily for Lauren but we are happier that her character shines. That's what matters most to us.
This week Lauren is in Philadelphia with her cousins. I jokingly asked Lauren if she would rather stay home and hang out with me for the week. She said, "Mom, when we play you always fall asleep. My cousins? They are always ready to go!" That is a perfect description of her cousins! Lauren loves nothing better than to be on the go!
Here is a picture of Lauren and a classmate at the end-of-the-year teddy bear picnic (inside picnic because it rained).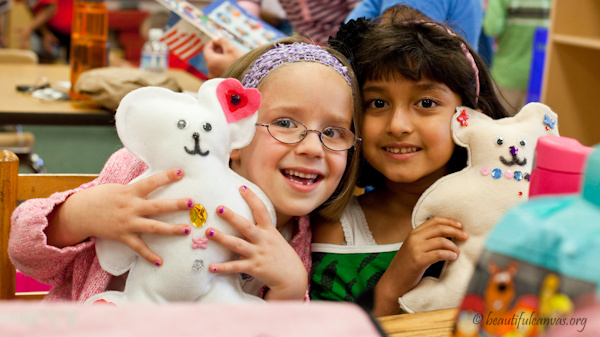 Carmen
Carmen is hanging in there. Both her heart rate and oxygen levels are all over the place. Her heart rate will be in the 90s and then in the 40s and 50s and then back up to the 80s. Her oxygen levels are similarly all over the place. She is still swollen but less swollen than when she was sick. The doctors keep mentioning congestive heart failure.
Carmen's nursing supervisor came for a visit this week. We talked about Carmen's last sickness and how we all thought Carmen wouldn't make it. She said, "It just goes to show you that when it's not your time, it's not your time. God wasn't ready to take her." So, Carmen is here a little longer, stretching and growing us more.
I took this picture today. I think Carmen looks so peaceful.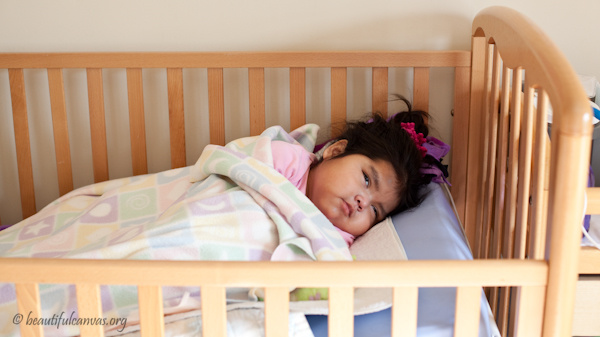 Hope
Hope is 4 1/2 months old now. She's a happy little baby. She "talks" and growls and greets us with smiles. A few days ago Lauren and I found Hope on her tummy, her legs pushing up, and her little bottom up in the air. It won't be long before she is on the go too!
I can't tell you how many people have commented that Hope came at the perfect time. I agree. I think we all needed something else to focus on, besides Carmen's sickness. No one will ever replace Carmen. But, Hope gives us hope. We needed that. Thank you God for knowing what we need far better than we know.