Yesterday I took a picture of Hope smiling. Yes, indeed, she does smile. In fact, she smiles all the time, just not so much for the strange black thing pointed in her face!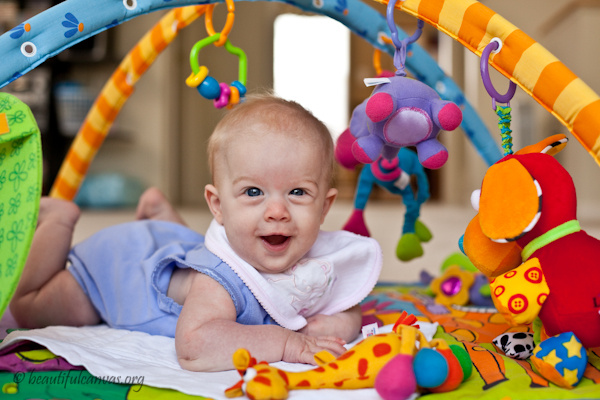 After I snapped the smiling picture, Hope lickety-split rolled from her tummy to her back and then from her back to her tummy. She ended up quite far from where she started.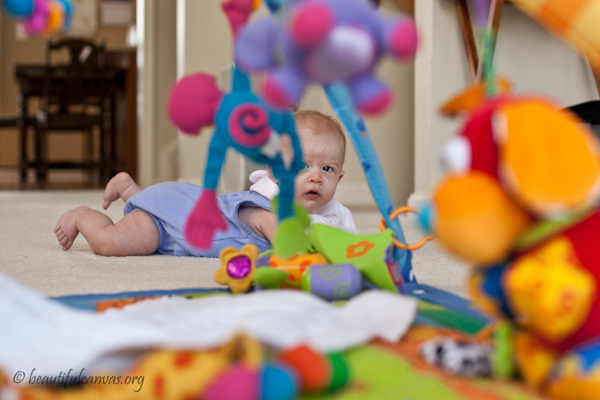 Rather impressive for someone who rolled for the first time four days before!
After this new feat, I rocked Hope to sleep for her nap. Usually we just put her in her crib and she pops her thumb into her mouth and goes to sleep (occasionally she protests for a minute or two but more often than not, she is happy to be in her crib). I rocked her to sleep because I realized how fast she is growing up and how soon she will be on her way to kindergarten and not interested at all in being rocked to sleep!
***
Thanks so much to Eric and Claudia for watching Lauren and Carmen today so Dave and I could have an afternoon out. Lauren had a blast! Thank you to Nurse Ruthann for the delicious dinner! Ruthann treated us to dinner at a local Italian place, Vicino Ristorante Italiano. We went at an odd time, 2pm, so we had a private dinner! The owner gave us the royal treatment. We started with crusty french bread and dipping oil. Next, we had calamari, tomato and mozzarella salad, and little cheesy bread squares. Our main dish was chicken marsala, linguini with tomato sauce, and sauteed broccoli. We ended the meal with ice cream triangles. No, we did not order all of that! The waiter just kept bringing us more to eat! It was delicious! 🙂