Christmas tree decorated with colorful ornaments. Gifts wrapped in shiny paper and ribbons under the tree. Christmas music playing. Nativities around the house. Wonderful holiday baking smells throughout the house. Reading the story of Jesus' birth. Gingerbread houses covered in icing and candies. Extended family Christmas mornings full of laughter and love.
I love Christmas!
This year we will be home (second time in 11 years) and want to start our own Christmas traditions. Nothing too complicated. Doesn't matter how big or how small, tell us about your Christmas traditions! And if you celebrate other holidays in addition to or instead of Christmas, tell us about those too!
Speaking of Christmas, Lauren's friend, Annie, sent Carmen a Guatemalan angel ornament. The Angel of Hope was made by impoverished Guatemalan women who live in a slum called "Esperanza" (hope). These women have worked together to develop a community medical center, dental clinic, a crafts project to generate income, etc. We have it displayed on the fireplace mantel.
Carmen's Guatemalan Angel of Hope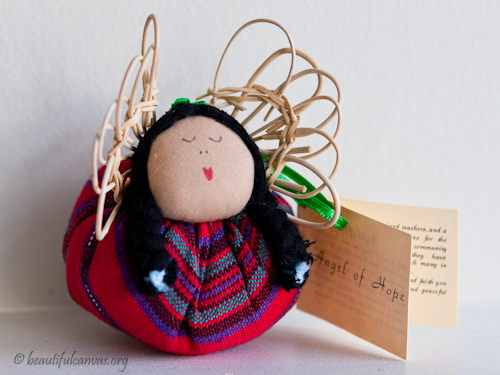 ***
Thank you to Annie (and mom Diane) for the adorable angel and for the fun birthday presents for Lauren! She had great fun using the letter stencils yesterday and they are good upper and lower case practice!
Thank you to Alecia for the Peruvian food! It was delicious. Thank you to Azeb for the Ethiopian dinner. I am so glad you introduced us to Ethiopian food. We were missing out!