Carmen's 3rd birthday is in four days! Wow!
Lauren always says, "Ssshhhh" when I start talking about Carmen's birthday presents in front of Carmen. She says, "It's supposed to be a surprise and you are talking right in front of her!" So, I'm going to tell you what we got Carmen for her birthday but please don't say anything in front of Carmen! 🙂 I've been looking all over for the right presents, and don't get me wrong it's not like we have gazillions to spend! That's why shopping smart has always been at the forefront of my mind. There are promo codes and coupons that can be used like this over at raise.com to see how much saving can be done and as a mother, I am very grateful for it. However, I really wanted to get her something special and something she'd have for the rest of her life. Something like this double sided t shirt quilt was particularly sweet, with the ability to put your own memories on it. Although this gift did catch my attention, I went with something else.
I found this website angelbabygifts.com and emailed the owner about making a shirt for Lauren to give Carmen for her birthday. Mary was wonderful to work with! Lauren had some ideas for the design and Mary came up with an adorable shirt. When Mary heard about Carmen, she wanted the shirt to be a gift from her family. We got the package in the mail yesterday and not only did it have a shirt for Carmen but also one for Lauren! Thank you so much Mary! That was so thoughtful and we love the shirts. Especially Lauren who jumped up and down when she saw the shirts! Carmen is holding balloons with the Guatemalan flag and the U.S. flag.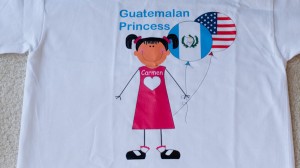 Dave and I wanted to do something special for Carmen for her birthday gift from us. Mi Refugio is a school ministering to the needs of children who live in the Guatemala City garbage dump. The children are bussed daily to Mi Refugio and taught to read and write. They learn practical skills like sewing and woodworking. They are fed two meals per day. Most importantly, they learn about Jesus. I called the school's contact person, Harry, who just happens to live 10 minutes away! We decided to donate, in honor of Carmen, both backpacks and vitamins for the children. I got a great deal on 20 backpacks from Children's Place and when they arrive in the mail, I'll take a picture! Lauren picked out the patterns. Lots of hearts and flowers! 🙂
Harry sent a video about the school, Children of the Fourth World. Lauren and I watched it yesterday. As I was putting Lauren to bed last night, she wanted to talk about the movie.
"Why do the children live in the dump?
"How do they get food to eat?"
"Should we move to Guatemala and help those kids?"
"Can we adopt some of the kids so they have a family?"
"Carmen couldn't have lived in the dump. She would have died. She would have just laid there and no one would have fed her."
"When I grow up I can move there and help the kids. I would dye my hair black so I would look like all the other girls!"
I told her that we would be so very proud if she decided to move to Guatemala and help the kids. Dave and I believe that God is using Carmen to work on Lauren's little heart and that someday she will do amazing things for Him. I really can't wait to see what she does!