Last night I went to a Greek restaurant for dinner with my MOPS (Mothers of Preschoolers) discussion group. We are very thankful for MOPS.  I don't know what we would do without them. They have provided meals for us when Carmen has been in the hospital or home sick. (NY Grandpa can vouch for all the good food. He is usually here when the MOPS moms come with food. I think he plans it that way! Ha!) They have shown up at the hospital with magazines and snacks. They have planned play dates and rides home from school for Lauren. They have sent cards in the mail. Last year they hosted Carmen's 2nd birthday Celebration of Life. They helped us unpack last year when we moved. They have watched Carmen so I could take Lauren out for mommy-time. They have watched both girls so Dave and I could go on dates.
After our scrumptious dinner last night (I ate chicken souvlaki), my MOPS discussion group leader handed roses and a basket of cards to me. Forty-one cards from the MOPS moms with messages of encouragement and Bible verses. I am supposed to open one per day. I am not good at waiting for anything so we shall see how that goes!
To the MOPS moms: Thank you so much for all of your encouragement, prayer and practical help. You guys are AMAZING!
The Roses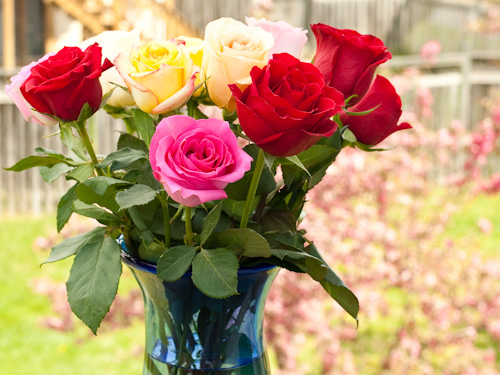 Basket of Cards