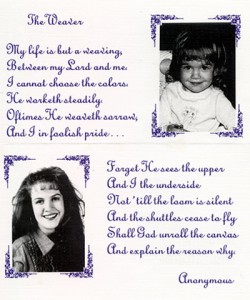 While looking for an old picture of Lana to respond to her "Best Meal Ever" post, I found the following in our files. As I understand it, Lana's dad made it as part of her high school graduation invitation.
Here it is in text in case you cannot read the picture:
The Weaver
My life is but a weaving, between my Lord and me.
I cannot choose the colors. He worketh steadily.
Oftimes He weaveth sorrow, and I in foolish pride…
Forget He sees the upper and I the underside.
Not till the loom is silent and the shuttles cease to fly,
Shall God unroll the canvas and explain the reason why.

Anonymous
I really do believe that God uses pain and sorrow as well as joy and good times to shape us and form our character. In a million years, we would have never asked for a child who is terminally ill. Yet, we really do love Carmen and she has opened our eyes to see the beauty of the imperfect (although it's not like the rest of us are perfect).
Your turn. How has God used sorrow to mold you and shape you?