Carmen is still hanging in there. She seems to be back to her baseline during the day. She did have a few episodes of heart-stopping and breathing-stopping last night but they were shorter than the night before. We appreciate your prayers so much.
Our good friends Rick and Shar came over last night after 10pm! You know you have good friends when they call at 9:30pm and say they can stop by. We are very, very blessed to know this couple. They have used the experiences and pain of their own lives to help others. They really are role models for us. We hope and pray that God will use us in such a magnificent way.
One thing I said to Rick and Shar last night is that the hardest part of losing Carmen is thinking of Lauren losing her sister, her only sibling. From the very beginning, Lauren ADORED Carmen. And Lauren never cared that Carmen could not do much.  She loves her and plays with her anyway, even if she has to make up what Carmen does. A few days ago, I was taking a shower and Carmen was in the middle of my bed. Lauren was playing in my room and when I came out she said that she and Carmen had been playing hide-n-seek. She said, "I would hide under the covers and then Carmen would find me. Mom, she always seemed surprised that I was under the covers!" Carmen can no longer see or respond or move but it doesn't matter to Lauren.
Shar reminded me last night that kids respond so very differently to death than adults. They have an acceptance that we don't have. They live in the now but we think about the future and the "what could have been" and "should have been". I don't know exactly how Lauren will respond but I expect that she will go back and forth between moments of sadness and then happy-let's-play moments. My biggest prayer for Lauren is that this whole experience will mold her into an amazingly compassionate person who learns early that our faith is not dependent on the circumstances of this life but on Jesus.
Thank you to Azeb and Reena for taking me out last night. I am still full from the fabulous Ethiopian food! Beef stew, chicken stew, sauteed beef, lentils, split peas, collard greens, hard boiled eggs, and spongy bread to pick it all up with our fingers! For those of you around here, try Addis Cafe on 355 near Lake Forest Mall. We got the Sampler and the Doro Wot. Dave and I will definitely be going back for a date night!
A few pictures of my two girls….
May 2007, Lauren was always the one person who could make Carmen smile.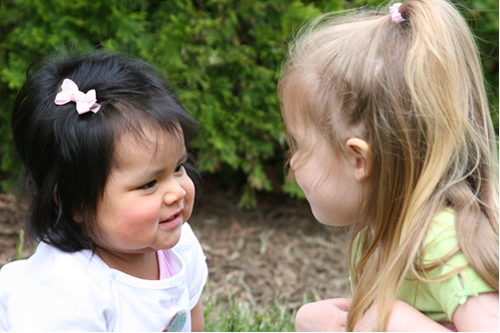 May 2007, Sharing a laugh.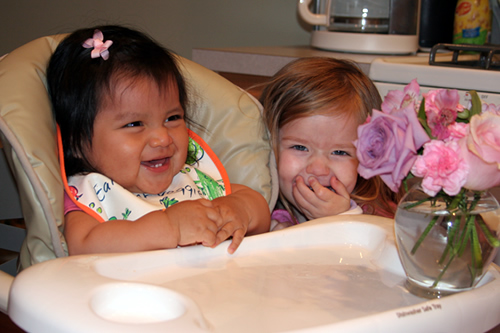 December 2007, Lauren reading My Little Pony to Carmen.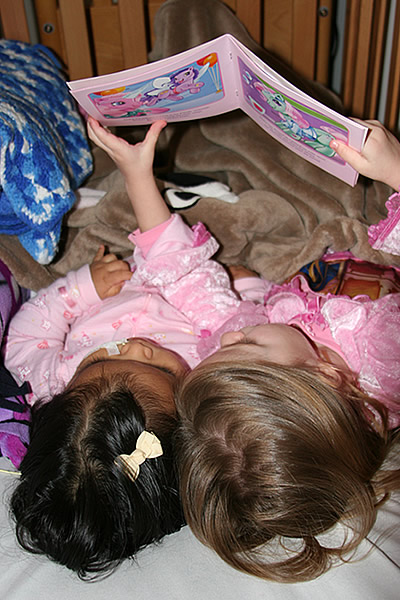 May 2008, Lauren and Carmen, picture by Sarah Mattingly